For an update on the progress of the Cloncreen Wind Farm, please download the Autumn 2020 Cloncreen Project Newsletter here.
The widening and resurfacing works on the L-1003-2 Eskermore – Clongarret road are now complete and the road has re-opened.
We would like to thank you for your patience and co-operation during these essential works.
Monday 31st August – Monday 19th October
In order to widen and resurface a section of the L-1003-2 as part of the development of Cloncreen Wind Farm, a 545m section of this road will be temporarily closed starting from the junction with the R402. This 545m section of the L-1003-2 road shall be closed from Monday 31st August 2020 for a period of 7 weeks, until Monday 19th October 2020. This closure will be 24-hours a day during this period and there will be no through traffic.
During this closure, local traffic will be detoured and will be signed accordingly. We ask that you please follow the detour signage that will be installed. We thank you in advance for your patience and cooperation during these essential works.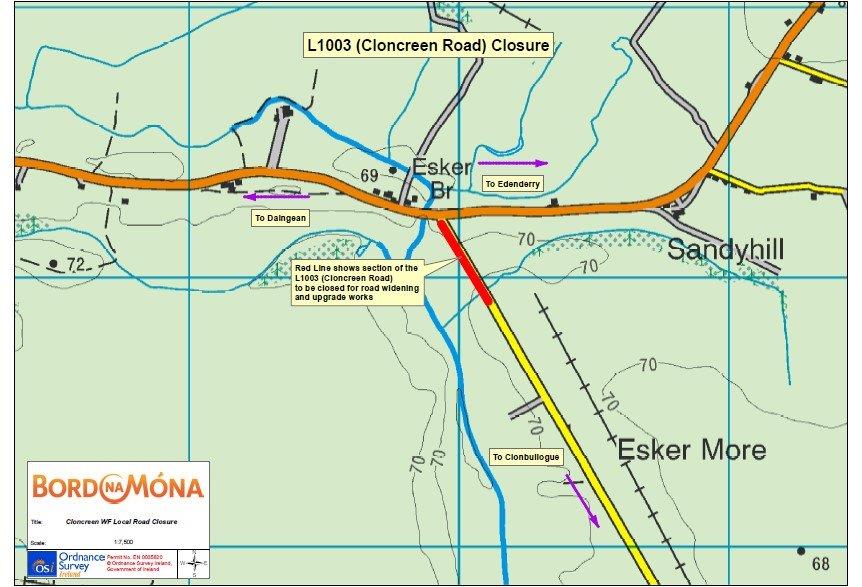 Construction Video Gallery
Please click the video links below to learn more about the development of the Cloncreen Wind Farm.
Alternatively view the video gallery below*
*Videos may not display if the option to 'Use necessary cookies only' has been selected