Project Overview
Bord na Móna has developed a wind farm on Cloncreen bog in eastern Co. Offaly. The wind farm is known as the Cloncreen Wind Farm.
The development of Cloncreen Wind Farm involves an investment by Bord na Móna of over €100m in low carbon electricity generation infrastructure in Co. Offaly. The project will make a significant contribution to the achievement of Ireland's 80% renewable electricity target by 2030. It was one of the largest projects to clear in the RESS-1 auction.
Cloncreen Wind Farm forms part of Bord na Móna's accelerated development pipeline of renewable energy and other assets. It will play a significant role in the company's Brown to Green Strategy. A key objective of this strategy involves using the existing landbank to continue to underpin Ireland's energy independence by developing green, sustainable energy sources to assist with Ireland's commitment- as part of the Climate Action Plan - to achieve 80% renewable electricity by 2030.
Location
The wind farm is located on Cloncreen bog in eastern Co. Offaly, approximately 4.5 kilometres southwest of Edenderry and 4km east of Bord na Móna's 84 MW Mountlucas Wind Farm. The villages of Clonbullogue and Rhode are located approximately 2.0 km south east and 7 km north-west of the site, respectively.
Cloncreen bog comprises of approximately 960 hectares (c. 2,400 acres) and was formerly utilised for peat harvesting by Bord na Móna to provide fuel for the Edenderry peat fired power station. The maximum permanent footprint of the development measures 40.1 hectares, which represents approximately 4% of the site.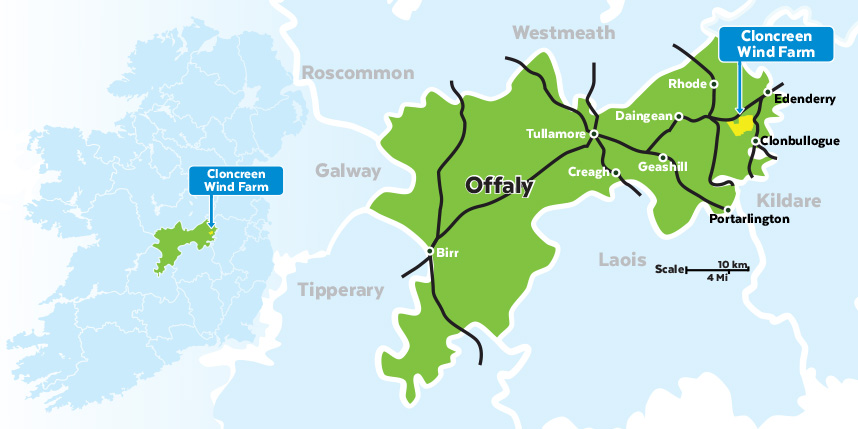 Main Contractors
Civil
Following a competitive tender process, Farrans Construction were been appointed to deliver the Civil Balance of Plant (CBoP) for Cloncreen Wind Farm. The CBoP contract covers the construction of public road upgrades, site compounds and temporary office facilities, site roads, crane hardstandings, and wind turbine foundations.
With operations across Ireland and the UK and employing over 500 people, leading building and civil engineering contractor Farrans Construction has significant experience of working on projects of all sizes across a wide range of sectors. Farrans is part of the Northstone Group which in turn is wholly owned by CRH plc, the global building materials group with an annual turnover of €28billion. The Civil Engineering division of Farrans operates in five key sectors of Renewables, Roads & Bridges, Water, Marine, and Horizon. In the Renewables sector it has successfully delivered some of the largest and most technically challenging wind farms across Ireland and the UK.
Electricial
The Electrical Balance of Plant (EBoP) works were undertaken by H&MV Engineering who were responsible for the design, construction and commissioning of the 110 kV substation and associated 110 kV underground cable grid connection.
H&MV Engineering is a trusted name in the electric power transmission industry. Established in 1997, they have quickly become a leading specialist in high voltage Transmission and Distribution systems. Their main expertise is in the design and build of substations up to 400 kV. They have successfully completed projects across many sectors – Transmission and Distribution, Renewables, Data Centres, Manufacturing and Pharmaceuticals. H&MV have offices and active site locations throughout Ireland, the UK, Europe, Africa, the Middle East and India.
Turbine Supply
The wind farm consists of 21 no. V136-3.45 MW Vestas turbines which has an overall tip height of 170m. Within this size envelope, the turbines have a rotor diameter of 136m and a hub height of 102m, it has an installed generating capacity of 75MW which will power approximately 55,000 homes per annum*.
Community Benefit Fund
The Department of Communications, Climate Action and Environment's new support mechanism for renewable electricity, the Renewable Electricity Support Scheme (RESS) will provide support to renewable electricity projects in Ireland. The first of the RESS auctions was held in July 2020 and Cloncreen Wind Farm was successful on its offer quantity of 75MW. A condition of RESS-1 participation is that the wind farm must establish an annual Community Benefit Fund for the duration of RESS-1 (15 Years). The fund value will vary each year as it will be calculated based on the annual output of the wind farm. Cloncreen Wind Farm will make an annual contribution of €2/MWh (of Loss-Adjusted Metered Quantity) into a Community Benefit Fund for the duration of the RESS Contract.
In 2021 the "Good Practice Principles Handbook for
Community Benefit Funds" was published. This handbook lays out a range of principles and guidance on RESS Community Benefit Funds. To view the handbook, click here.
Community Action Plan
Bord na Móna enlisted the services of Offaly Local Development Company (OLDC) to develop a Community Action Plan in conjunction with the local community. The plan aims to identify what local resources and amenities currently exist in the area and also what additional actions/projects may be undertaken to enhance the locality in both the short and long term through utilisation of the Cloncreen Wind Farm Community Benefit Fund (when it opens for applications after the 1st year of commercial operation).
The Clonbullogue Development Planning Group officially launched their Community Action Plan in March 2022.
The Community Action Plan was supported by Cloncreen Wind Farm and developed in conjunction with Offaly Local Development Company.
The Development of the Plan involved a number of stages with some of the key activities outlined below:
Conducting various audits and assessments within the locality
One on one interviews with key stakeholders
Undertaking household surveys
Establishing vision statements for the locality
Developing a roadmap for development and/or change
Hosting a facilitated workshop to share the outcomes of the work and collaboratively validate the strategic plan for future development

Amenity
Similar to Mountlucas Wind Farm, amenity facilities (such as utilising the internal road network for walkways/cycleways) will be incorporated as part of the Cloncreen project. Approximately 21 km of internal road network will be constructed as part of the development. In addition, to enhance the amenity potential of the site, the project team are continuing to develop a wider amenity plan for the wind farm.
* based on average household consumption of 4,200kwh.